"America's Best Known Crappie Fisherman" - Nick Sissley, FISHING WORLD MAGAZINE
Come fish one of the top Crappie fishing areas in the World with the man that knows the lake like the back of his hand. Steve McCadams knows the patterns of Kentucky Lake's fish, as well as hundreds of the top fishing areas. His knowledge will give you the best chance possible for a productive day on the lake.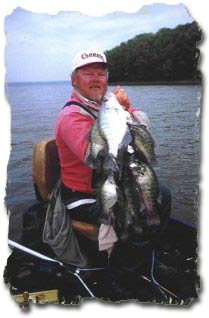 Steve has been guiding anglers here for 28 years during the spring, summer and fall seasons and provides excellent fishing as well as tips and a fun filled day.
In 1996 Steve also won the National Crappie Fishing Championship at the Crappiethon Classic on Chickamauga Lake. How's that for experience!
A trip consists of 7 to 8 hours of fishing with a mid-day break for lunch. Boat, motor, gas, tackle, life vests, etc....are furnished when crappie fishing.
Party size can range up to three (3) people. Costs are $275 for two; $325 for three, plus bait and ice.
For bass fishing the party size is limited to two (2) people and clients are responsible for their own tackle and fuel used during the trip.
Boats are safe and comfortable. Large groups can also be accommodated. You'll want to pack along raingear, soft drinks, ample clothes, sunglasses, and a cooler to take your fish home. Fish cleaning facilities and freezing is available at the dock or you can hire your catch filleted and bagged by attendants at the marina.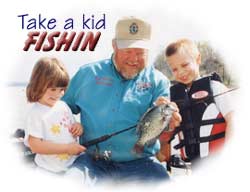 Phone# 731-642-0360
Steve McCadams
655 Anderson Dr.
Paris, Tennessee 38242

---