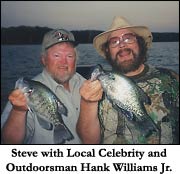 Whether it's Waterfowl Hunting, Bass or Crappie Fishing, Steve McCadams has the experience to make your trip a time to remember. He has over 28 Years of Experience on Kentucky Lake, but it's not just the years afield, it's his passion for the Outdoors that make a trip with him special. Give him a call now, because only a limited number of trips are available...731-642-0360



Steve has been published in a variety of the nation's top outdoor publications and is also featured weekly in the Paris Post Intelligencer, and of course here on Paris Landing.com. His fluid and concise articles help bring the outdoors home to thousands of Americans each week.
A list of major publications that have featured his articles include Sports Afield, Field & Stream, Outdoor Life, In-Fisherman, Wildfowl and Ducks Unlimited.
"IN PURSUIT"
Steve is also host of the nationally televised show "IN PURSUIT" which covers a variety of hunting and fishing adventures as well as tips and tricks. IN PURSUIT airs weekly on the Outdoor Channel.
"CRAPPIE WISDOM"


Steve was co-author on one of the top Crappie Fishing books available anywhere "Crappie Wisdom". It's filled with insight that only a professional angler can provide and is sure to make you a better fisherman. To order your autographed copy...click here


His knowledge and insight into the ways of crappie on Kentucky Lake will not only provide for a great fishing trip, it will also help you better understand the ways of the Crappie.
Widely known for his Crappie Fishing knowledge, Steve has been called "America's Best Known Crappie Fisherman". One fishing trip with him and you'll see why.
For more about Steve McCadams...just click here
Make sure and visit Steve's official site - www.stevemccadams.com

And Remember
"Take A Kid Fishing"
It's something they'll never forget.
Phone# 731-642-0360
Steve McCadams
655 Anderson Dr.
Paris, Tennessee 38242

---