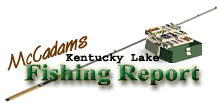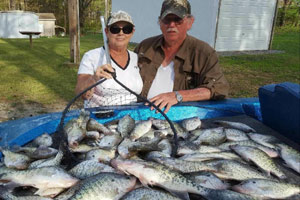 Jane and Tom from TN 2017
Kentucky Lake Crappie Fishing
Crappie Action Guide Service


FISHING SCENE GETS INTERMISSION

Thanks to a rare late July and early August cool snap Kentucky Lake anglers are enjoying an intermission in the hot summer weather.

Several mornings last weekend and early this week had a touch of fall in them. Lower humidity combined with cooler temperatures to deliver nice fishing conditions. And, guess what? Thereís yet another cool segment in the forecast for later this week that will last through early next week!

Temps are forecast to dip into the low 60ís at night and climb only to the mid 80ís for several consecutive days. That sure beats a week ago when fishermen were battling daily heat indexes of 100 degrees!

Lake levels this week continued a slow decline in elevation. TVAís forecast for this weekend will be in the 357.4 range in the Kentucky Dam sector. Upstream around New Johnsonville lake levels will be slightly lower with a forecast for 357.3.

Surface temperatures cooled a bit in response to the cool spell and were in the 87 degree range at midweek. Last week at this time the lake had warmed to 91 degrees plus.

Water color remain clear across most of the reservoir.

Summer crappie activity improved slightly since last week thanks to cloudy days, light winds and lower temperatures. The reprieve seemed to help both the fish and the fishermen!

Most of the crappie are still lingering around the 13 to 14 foot depth range but some fish were taken this week by anglers falling back to deep sides of main lake ledges and discovering a few in the 18 to 20 foot depth zone.

A few days saw current enter the fishing picture and that seemed to help the deeper bite for anglers vertical fishing deep brush piles.

Deeper stakebeds and brush piles in the midrange depths produced fish too. Structure in the 13 to 14 foot depth range is still holding the bulk of the fish. There are a lot of small fish hitting so anglers are having to cull several on a daily basis.

Live minnows and jigs tipped with minnows have worked best. However, a few boats are trolling crankbaits out on main lake ledges and scoring some fish as well.

The summer bass bite has been fair but this summerís heat and humidity have separated the men from the boys. Morning hours have produced decent fishing but by midday the heat has taken its toll and slowed down the bite.

Most anglers are focusing on drop-offs and targeting the 12 to 15 foot depth range. Tossing big deep diving crankbaits in the black/chartreuse, Tennessee shad, pearl/chartreuse and chrome/blue have been productive. There are so many shad colored variations for anglers to present and thatís produced best.

Lower lake levels have pulled water out of bushes and grassbeds, leaving very little structure for shallow shoreline style fishermen.

Big 10-inch Texas rigged worms continue to produce as well. Some anglers are tossing swim baits and Carolina rigs was well.

Catfish activity seemed to improve a bit this week courtesy of the current. TVA has been pulling water and that stimulated the catfish bite a few days for boats working the main channel banks.

Baits of choice have been nightcrawlers, chickern liver and catalpa worms fished on bottom bumping rigs in the 30 foot depth range.

The overall fishing scene improved this week thanks to a dip in temps that complimented some light winds and cloudy days. Looks like more of that will return for the first week of August.


Also check out our past:
Kentucky Lake Fishing Reports

Steve McCadams is one of the nation's best known Crappie Fishermen and a full time resident of Paris, Tennessee. Steve is also a professional hunting and fishing guide here in the Paris Landing area.