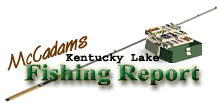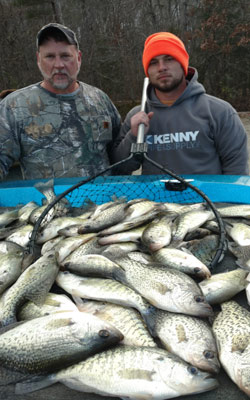 Roger Binkley and Chase Binkley from TN
December 2017
Kentucky Lake Crappie Fishing
"1 pole jig fishing"
Crappie Action Guide Service


WINTER FISHING RESUMES…ANGLERS BACK OUT IN FORCE


After several weeks of inclimate weather that had Kentucky Lake anglers staying indoors and close to the fire the winter fishing scene has resumed and not a bit too soon. Most anglers were suffering from cabin fever and anxious to wet a hook.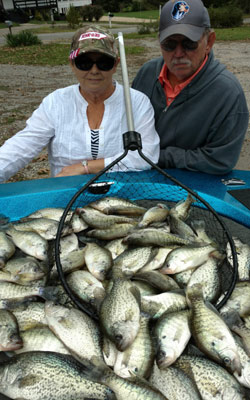 Jane and Tom from TN 2017
Kentucky Lake Crappie Fishing
"1 pole jig fishing"
Crappie Action Guide Service


A few had worn out a pair of shoes just walking the floor waiting on better weather. You get the drift!

Some mild days with light winds allowed crappie anglers to hit the open water and test those main lake ledges or manmade fish attractors which had either been iced in during most of January or vulnerable to nasty bone chilling winds.

Some areas that hadn't been fished in a month were finally getting some attention by weary anglers hoping the fish were hungry and congregated.

Most anglers are reporting a few fish caught that eclipsed the 10-inch minimum length limit. Although somewhat scattered, the fish are coming from the deep side of drop-offs in depths of 18 to 20 feet at the mouth of Big Sandy in the Paris Landing sector.

Not all the fish are relating to deep water, however, as a few boats working manmade structures such as brushpiles and stakebeds found a few crappie taking jigs in depths of 9 to 13 feet.

Water color this week has been quite dingy in the Big Sandy and West Sandy area. Rains last week drenched the area and sent a lot of runoff into the reservoir which stirred up sediments and stain the water color. However, the water color was clearing each passing day and now appears to have a pretty good stain for fishermen.

Surface temperatures at midweek were in the 40 degree range. The weather roller coaster is still alive and well. At midweek temperatures were climbing to the upper 50's but it was a short hiatus from the chilling conditions that have dominated the overall fishing scene as of late.

Lake levels are staying relative stable across the region. TVA projects an elevation of 354.7 at Kentucky Dam this weekend. Upstream around New Johnsonville lake levels will be in the 354.8 range.

The level hasn't fluctuated much lately, sleeping near the winter pool mark now for quite some time.

Kentucky Lake crappie and bass fishermen have not seen the normal shad die-off this winter that usually occurs when extremely cold conditions descend. Traditionally threadfin shad are vulnerable to quick surface temperatures declines and often go into shock when trapped in shallow water as temps bottom out.

The shad kills are normal during very cold times like we've just experienced. However, the lack of visibility of a shad kill further adds concern to many bass and crappie anglers who have been quite concerned dating back to last spring, summer and fall when lower numbers of baitfish were observed.

Also showing some red flags were the physiology of the crappie and some bass too. Several fish were sporting very thin profiles, an indication their forage base was less than adequate.

Commercial fishermen that frequent the lake year round have voiced concern as well about diminishing shad numbers. They usually toss throw-nets in shallow water to catch baitfish for their trotlines but most said locating schools of shad has been extremely difficult and downright impossible at times!

Other signs such as lack of visibility on gravel banks throughout the fall months when shad usually congregate in lowlight conditions while feeding on midge hatches. That scenario was not present last fall in the Paris Landing area like it has been for decades!

From my vantage point I did not see the "fry" coming off this spring from the usual shad spawn. Clouds of tiny baitfish are usually present around shorelines, boat docks, buck bushes and weeds as they emerge. I did not see those young of the year present late last spring.

So, both sport and commercial fishermen are voicing concern as to the forage base of threadfish shad on Kentucky Lake. In the weeks ahead I'll be interviewing fisheries biologists from both Tennessee and Kentucky to get their input on the overall fishery.


Also check out our past:
Kentucky Lake Fishing Reports

Steve McCadams is one of the nation's best known Crappie Fishermen and a full time resident of Paris, Tennessee. Steve is also a professional hunting and fishing guide here in the Paris Landing area.