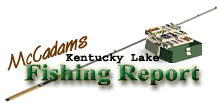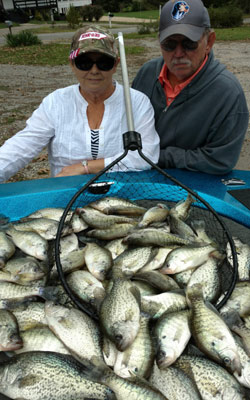 Jane and Tom from TN 2017
Kentucky Lake Crappie Fishing
"1 pole jig fishing"
Crappie Action Guide Service

WARM STRETCH FAVORS LATE FALL ANGLERS

By Steve McCadams

An extended spell of warm sunny days and light winds is just what the doctored for late fall fishermen on Kentucky Lake.

Above average temperatures over the last week to ten days isnít exactly what the waterfowlers or deer hunters wanted but itís been great for crappie and bass fishermen who are at the mercy of the elements this time of year.

As a result of light winds and warm temps crappie anglers have been taking advantage of it and scored some pretty decent catches lately. Several decent stringers were taken by anglers working deep drop offs around the depth range of 16 to 22 feet.

Also producing have been stakebeds and brushpiles in the 8 to 12 foot depth range. Anglers vertical fishing jigs and jigs tipped with minnows found a few more fish had moved up into submerged structures.

Live minnows have worked too as some of the deep drop-offs were holding fish and anglers using bottom bumping rigs armed with shiner minnows reported plenty of activity. Some were using jigs too and tipping them with minnows to entice bites.

Not having to brave high winds has allowed crappie anglers to move about in the open water areas around Paris Landing and throughout Big Sandy and West Sandy.

Popular jig color combinations have ranged from pink/chartreuse to aqua blue with sparkles, black/chartreuse, chartreuse with red metal flake and some shades of orange, chartreuse and blue just to name a few.

Surface temperatures this week have rested in the 53 degree range. Water color remains clear across the reservoir has not much rain or wind has been present to stir things up.

Lake levels have been relative stable lately as very little rainfall has entered the TVA valley, although some rain was entering the pictured at midweek.

Lake levels are projected to be 354.5 at Kentucky Dam this weekend. Upstream around New Johnsonville the elevation will be a low 354.2. Thatís a few inches below the low ebb of winter pool so boaters best use caution and common sense.

Late fall bassing has still been a bit tough as not many anglers are reporting consistency or hefty stringers. There have been a few fish caught but most say theyíve struggled to keep a pattern producing.

Tossing crankbaits along gravel banks has been popular as have some main lake flats where fishermen were casting Rattle Traps and swim baits. Others were tossing Carolina rigs on sloping gravel points and finding a few fish using that method.


Also check out our past:
Kentucky Lake Fishing Reports

Steve McCadams is one of the nation's best known Crappie Fishermen and a full time resident of Paris, Tennessee. Steve is also a professional hunting and fishing guide here in the Paris Landing area.