Fishing in the Rain
photos by: Sandra Lee
---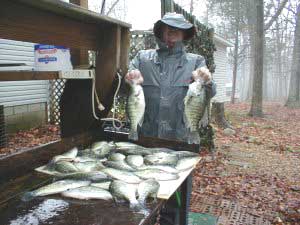 Now most normal folks (people who ain't diehard fishermen) would be at home on a day like this.

Well, Danny Anderson of Humboldt went out with Crappie Action Guide Service in Mid-March and brought in a limit of some nice Crappie.

I guess he enjoyed it, it's kind of hard to tell.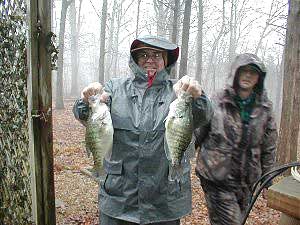 Oh yeah, there's that smile!
It just goes to show you folks, this time of year you never know when they're biting. Just because it's raining doesn't mean you should stay in the house. Cold fronts can really slow the fishing down. But, the rain that often proceeds the fronts may be a great time to fish. I do know this -You ain't going to catch no fish watching Oprah.

Good Fishin,
The Fishman