Leatherwood Resort, a quiet family resort with all the amenities needed for a memorable vacation. This area is renown for it's Civil War history and has many sightseeing attractions, such as Fort Donelson Battlefield. The Surrender Home and more- also Land Between the Lakes National Park is only 10 miles away. Nearby there are 4 golf courses and antiques to browse through.
COTTAGES
Most of our units are two bedroom with a full size bed in each bedroom. The living room has a sleeper sofa, side chair and color T.V. The kitchen is completely equipped with cooking and eating utensils. All units are air-conditioned , have covered breezeways and picnic tables. Linens and towels (not pool towels) are supplied.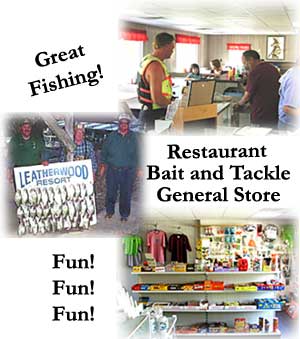 FOR KIDS
Leatherwood Resort is the perfect vacation spot for your entire family with plenty of activities for children of all ages including: Playground, Swimming Pool, Basketball, First Fish Awards, Great Golf Courses Nearby
RESTAURANT
If you don't want to cook try our restaurant. The menu has many tasty items such as eggs, country ham and hashbrowns for Breakfast, or try our great pancakes. For lunch we serve the area's best burgers or many other sandwiches.