Why Do You Need a Kentucky Hydrografx Map?
Lake maps are one of the best tools a fisherman can have to increase his chances for success. New technologies are making it possible to greatly increase the accuracy and reveal many subtle depth changes that were previously undetectable. Until now, even the best maps on the market could only show 5 foot depth changes. Lots of time on the water and advanced terrain modeling software
has produced maps that will now show contour intervals of 1 foot or less, making the many drop offs out in the lake much more visible and greatly increasing the chances to find these prime spots, even for a novice fisherman.
The wide open areas of Big Sandy and the main river are ideal spots to use these maps. Drop-offs abound in this part of the lake and many are difficult if not impossible to find without a good map.
GPS mapping software will allow you to print out exact copies of the underwater terrain that you are targeting on any specific day. If you want to really get all of it's benefits, you can then add a gps for finding new spots and even a palm-sized computer to view the entire area in real time while you are fishing. 3-D images are provided to give you the most intricate view of the creek channels and ledges.
3-D Imaging Included
For the most realistic Views Possible
Hundreds of spot elevations are also included on all section maps for easy reference. If you know the current lake elevation, then water depth can be easily calculated.
Prices range from $15.00-$35.00 per CD
(depending on the area)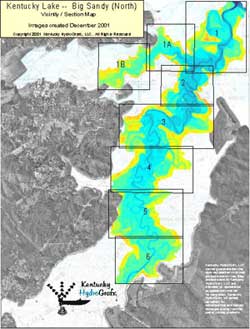 The map above shows the areas available on the Big Sandy River CD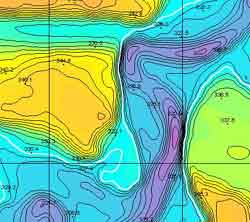 Topographic images on CD each contain a latitude and longitude grid and coordinates for easy calibration with GPS mapping software.